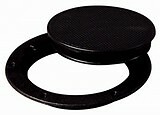 [+] Click for Bigger Image
Tempress Deck Plate Black 6" Pry Out
(€12.95)
Located in Antwerpen (2000)
Go To Store!
---


Weather-tight deck plates feature a secure pry-out center, with o-ring seal and grooved flange bottom for bedding compound retention. Perfect for ares that require infrequent access.
Product Size:
Outer Dimensions: 8 2/16"
Cut Out Dimensions: 6 3/4"
Merk: Tempress

Eggers Webshop is een Nederlands bedrijf gespecialiseerd in bootstoelen en bootstoelaccessoires. We leveren diverse hengelsportaccessoires van Attwood en (Tempress) Fish-On!.
Onze merken zijn Attwood, Action P., Wise, Tempress, Fish-On!, BoatMates, Springfield, Eggers, Vetus, Allpa. Onze showroom is in Jisp, voormalig winkelpand Eggers Jisp, u kunt daar terecht op afspraak. We zijn lid van Thuiswinkel Waarborg.