---
Voici un superbe Médium Pro AUDAX qui a reçu une nouvelle suspension
mousses il y a quelques jours . Ce composant est vraiment très propre
Le médium à été testé au générateur Hellwett-Packard et affiche
une valeur de 6,3 Ohms au testeur DC .
Un médium de très haut niveau très apprécié par Jean Hiraga dans de
nombreux articles et forums !
Comme d'habitude ce composant sera très soigneusement préparé et emballé
dans sa boite originale avec beaucoup de protections supplémentaires
pour vous parvenir dans les meilleures conditions
Audax PR17 0MO is a Professional Quality Reference Standard 17 cm 6,50"

Midrange, high efficiency 100 dB SPL, high power of 100W. 

Used by many professional sound system makes.

Featuring a profiled paper cone and coated flat foam surround, with substantially flat response from 500 Hz to 6KHz..

Audax recommended replacement for MHD 17 HR 37 RSM, MHD 17 HR 37 TSM, PR 17 HR 37,

PR 17 HR 60,PR 17 HR 70, PR 17 HR 100
Here's a near mint  AUDAX Mid speaker with nice clean ORIGINAL new foam suspension.
Tested good with a frequency generator and read out a 6,3 Ohms resistance DCR.
Thise part will be carefully & seriously packed with a lot of protection
to be shipped to you with a MAXIMUM safety .
Mesures/Schémas Audax PR170M0-8
Mesure SPL & Impédance vs Fréquence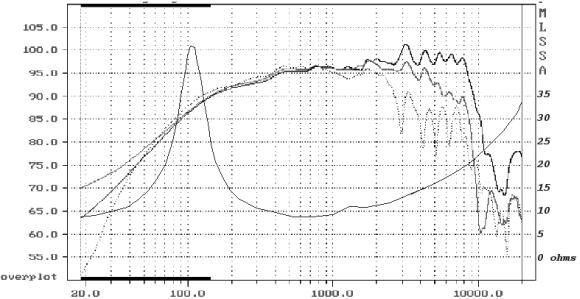 Dimensions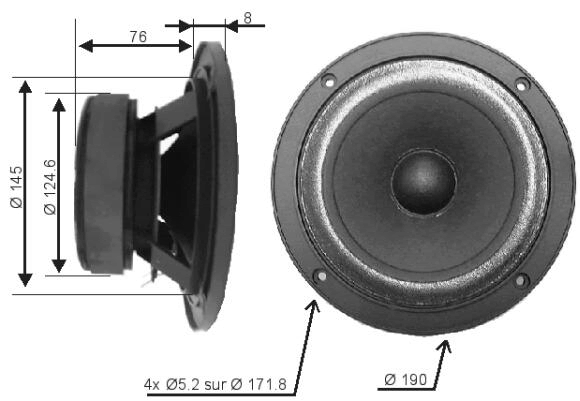 Garantie
For NON EEC buyers please ask shipping cost PRIOR to buy !!! Thanks !!!
Enlèvement possible à Wavre ou à Gand après la vente et RDV au 0475-48.63.08.
Envoi très soigné comme toujours avec beaucoup de protections dans un carton double .

NO Bidder with at least 10 & 100% Positive feedback

Les enchérisseurs n'ayant pas au moins 10 évaluations positives ne sont pas acceptés
sur mes ventes .
As usual we'll pack this nice Machine with A LOT of protective material

and packed in a strong DOUBLE box , shipped to you with a tracking number .
Comme à notre habitude , cet appareil sera très bien emballé avec énormément
de protections et envoyé dans un carton DOUBLE avec un N° de suivi .