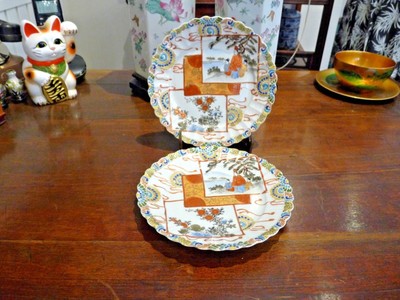 [+] Click for Bigger Image
Paire d'assiette Japon Kutani + Moriage.
(€30.00)
Located in Koekelberg (1081)
Go To Store!
---
* Jolie Paire d'assiettes japonaises originales; polylobées, décor paysages et
 fleurs; Kutani ? mais avec des ajouts en relief qui font penser au Moriage.
 Diamètre : 18 cm.  En parfait état. Signée "Dai Nihon", donc d'avant 1945.
Pour la Belgique, je poste (6 euros) ou via Mondial Relay (5 euros) ou enlèvement au magasin. Email : Aline_en_Chine@icloud.com
Payment :Belgique : virement bancaire ou à la prise en charge - EU : paypal .
I post to EU countries - Price on request. 17 euros for near by countries. (France, Germany, The Netherlands, UK)
* Lovely pair of Japanese plates, Kutani ? with Moriage decors on the rim. Very original pair with only "Dai Nihon" on the back, so they are from before the second ww.
For delivery :
I now use Mondial Relay. 
Delivery in a pick up point :  Belgium, Luxembourg, France and Spain. 
Home delivery : Portugal, Italy, Austria, Germany, UK, Spain.
Please, feel free to ask me for a price; it is much cheaper 
than the Belgian post but pricing depends on weight.