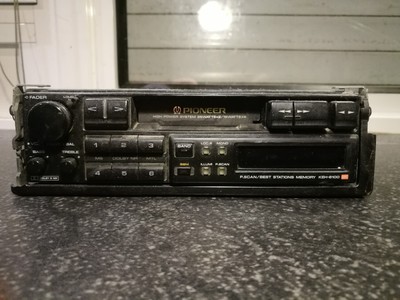 [+] Click for Bigger Image
PIONEER KEH-6100 B - AUTORADIO CASSETTE - OLDTIMERS / YOUNGTIMERS
(€9.00)
Located in Herstal (4040)
Go To Store!
---
PIONEER KEH-6100
AUTORADIO CASSETTE
VINTAGE
Livraison possible au prix de 10 eur avec la poste ou avec Mondial Relay au prix de 4,5 eur.  Attention, livraison sous la responsabilité de l'acheteur.  colis soigné - je ne suis pas responsable des éventuels dommages pouvant se produire durant le transport.  Envoi dès réception du payement (max 10 jours).
Merci d'enchérir uniquement si vous avez l'intention d'acheter l'objet.  Le non-payement fera l'objet d'un litige pouvant mener à la suppression de votre compte Ebay (Please bid only if you are decided to buy the object.  Non-payment will be reported to Ebay, with the risk of the abolishment of your Ebay account)
Foreign Ebayers please contact me to know the shipping costs.  I ship when I receive the money.  I am not responsible for the possible damages that might occur during the shipping.
Exemple :
LUXEMBOURG : 7,50 EUR
NL : 7,50 EUR
FRANCE : 8 EUR (sauf DOM TOM)
SPAIN : 10 EUR
GB / GERMANY : 16,40 EUR
ITALY : 16 EUR (Sicilia, Sardinia : 50 EUR)
...
FOR OTHER COUNTRIES, IT'S VERY IMPORTANT TO CONTACT ME TO KNOW THE SHIPPING COSTS TO AVOID ANY PROBLEMS !  SPECIALLY FOR CHINA, RUSSIA AND USA.