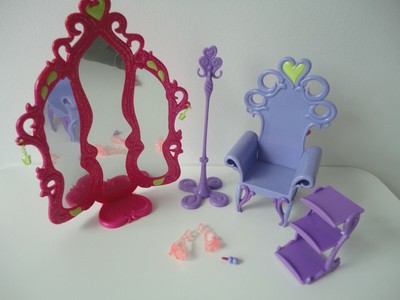 [+] Click for Bigger Image
Mattel WINX pop / Poupée / Doll - Room Playset 3
(€15.00)
Located in Geel (2440)
Go To Store!
---
Wij verkopen een deel van onze WINX-verzameling (en ander speelgoed):
(we hebben teveel poppen en meubeltjes)
De poppen dragen allemaal hun originele kleding.
(soms ontbreekt wel eens een ring).
Indien anders staat het in deze beschrijving!

Deze artikelen zijn allemaal in heel goede staat, maar lees de beschrijving en
bekijk de foto's! (De foto is van het eigenlijke artikel!)

Ik verstuur zo goedkoop mogelijk! Soms komt verzending goedkoper uit, ik betaal altijd het teveel terug !!
Groepeer Uw aankopen!!! Verzendingskosten volgens gewicht!!
Gelieve te wachten op de factuur!

STEL GERUST UW VRAGEN !!

Nous vendons une partie de notre collection WINX (et autres jouets):
(nous avons trop de poupées et meubles)
Les poupées sont toutes vêtues dans leur tenue d'origine.
(parfois il manque la bague).
Sinon, c'est dans cette description!

Toutes les articles sont en très bon état, mais veuillez lire la description et regarder les photos! (Les photos sont de l'article en vente !)

J'envoie toujours le moins cher possible ! Parfois je peux envoyer encore moins cher, je rembourse toujours ce que vous avez payé trop !!
Groupez vos achats!! Frais de livraison selon poids!!
Veuillez attendre la facture !

N'HESITEZ PAS A POSER VOS QUESTIONS !!

We are selling part of our WINXcollection (and other toys) :
(We have too many dolls and furniture)
The dolls come with their original clothes.
(sometimes a ring is missing).
If not, it's mentioned in this description!

All these items are in very good condition, but please read the description et look closely at the photos! (The pictures are from the item that is for sale!)

I always send as cheaply as possible! Sometimes I can send even cheaper, then I always refund what is paid too much !!
Combine shipping!!! Shipping by weight!!
Please wait for the invoice!

FEEL FREE TO ASK YOUR QUESTIONS !!


Verzending binnen België: Envoi en Belgique


Bpost Thuis / A la maison: box <10kg = 6€ 
Bpost Postpunt/Point Postal: box <10kg = 5,00€ (bv pe Carrefour Market...)
DPD thuis / A la maison: box <20kg = 6€
DPD Pickup Parcelshop: box <20kg = 4€


Shipping International:
BPOST: Nederland / La France / Deutschland / UK: 
box <10kg = 16,40€ (WITH track & trace)


BPOST: Italy / Spain / (most European countries) and USA:
1 Barbiedoll without box or big accessories can be send for 14,19€ or 18,54€ (depending on the weight) SIGN UPON RECEIPT
0-350g à14,19€
350g-1kg à18,54€
-5kg à 32,80€


DPD: Nederland: box <10kg = 10,50€
DPD: UK / France / Italy / Oostenrijk: box <10kg = 18,00€
DPD: Spain / Portugal: box <10kg = 23€


PAYPAL only for international byers !! Thank you !!