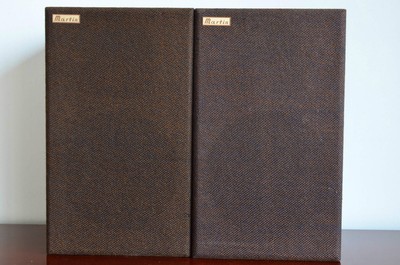 [+] Click for Bigger Image
MARTIN SPEAKERS USA 1973 Vintage MICRO MAX 110
(€180.00)
Located in Bruxelles (****)
Go To Store!
---
MARTIN SPEAKERS USA 1973 Vintage MICRO MAX 110
Martin Speaker Division
Eastman Sound Manufacturing Company incorporated
Mickleton , New Jersey
 pretty good cosmetic condition for the age.
The Martin Micro Max was first introduced in the early seventies and was one of our best selling models. It's approach to sound reproduction was simplistic and revolutionary at the same time. It's accuracy and affordability make it a first choice for audiophiles on a budget. It is a two-way system designed primarily as a small studio monitor available for home use. It is for the true audiophile who will accept nothing less than reality but does not have the space for a larger system. We invite the prospective buyer to compare this system regardless of price. The Micro Max will speak for itself. Each Martin Speaker is still meticulously handcrafted from the finest materials available. Today's Micro Max is an amazingly accurate reproduction of the original that has stood the test of time.The Martin Micro Max will deliver true audiophile quality sound. Listen to the irresistible sound of the Martin Micro Max.
Make me an offer maybe i will accept it.