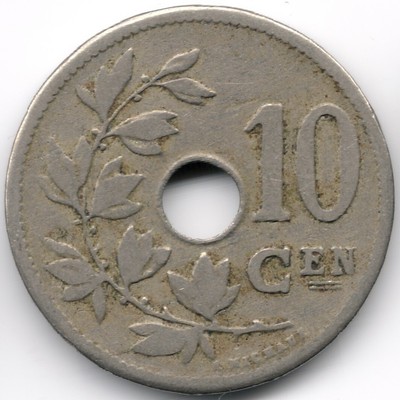 [+] Click for Bigger Image
Belgium : 10 Centimes 1904 Dutch Legend
(€0.50)
Located in Herenthout (****)
⇨ See Details!
---
the Eurozone : 10 Centimes 1904 Dutch Legend
KM#53           Morin 263

Bekijk mijn andere objecten!
WYSIWYG = What You See Is What You Get
Paypal only for buyers outside the Eurozone / Paypal enkel voor kopers buiten de Eurozone / Paypal seulement pour des acheteurs extérieure de la Zone Euro / Paypal nur für käufer ausserhalb die Eurozone
Registered letter possible for 5,70 Euro surcharge / Aangetekende verzending mogelijk voor 5,70 Euro extra / Envoie récommandé possible pour un surplus de 5,70 Euro / Einschreiben möglich fur 5,70 Euro extra.
Meerdere aankopen worden gecombineerd verzonden. Portkosten op basis van gewicht - Multiple achats serons envoyé combiné. Frais postales au base du poid - Multiple buys will be combined into 1 shipment. Postal costs based on weight - Mehrfache Ankaufe werden kombiniert verschikt. Portkosten werden berechnet auf Gewicht

The sender accepts absolutely no liability or responsibility for any items not received unless the registered postage was paid / De afzender aanvaardt absoluut geen aansprakelijkheid of verantwoordelijkheid voor om het even welke niet-ontvangen object tenzij er voor aangetekende verzending werd betaald / L'expéditeur n'accepte absolument aucune responsabilité ou responsabilité d'aucun article non reçu si pas envoié récommandé /  Der Absender nimmt absolut keine Verbindlichkeit oder Verantwortlichkeit für alle mögliche Einzelteile an, die nicht empfangen werden, es sei denn Einschreibporto würde gezahlt.
SKU : 6762