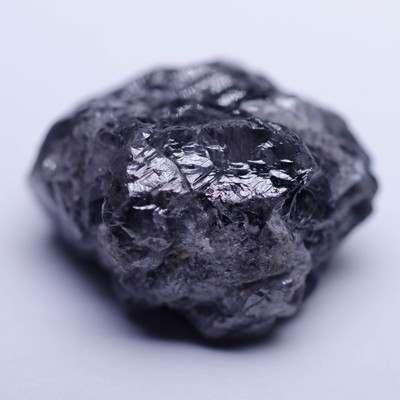 [+] Click for Bigger Image
8.48 CARAT NATURAL ROUGH RAW UNCUT DIAMOND BLACK OPAQUE IRREGULAR
(€474.99)
Located in Bruxelles (1000)
Go To Store!
---
ITEM DESCRIPTION:
ITEM ID: BE0673

CARAT: 8.48

COLOR: BLACK

CLARITY: OPAQUE (10X LOOP)

SHAPE: IRREGULAR

APPROXIMATE DIMENSIONS IN MM: 13.50 X 10.00 X 7.50

ORIGIN: TANZANIA

GUARANTEE:
The listed diamonds are purchased from legitimate sources not involved in funding conflict and in compliance with United Nations resolutions. We hereby guarantee that these diamonds are conflict free, based on personal knowledge and/or written guarantees provided by the supplier of these diamonds. Thus all our rough diamonds adhere to the Kimberley Process Certificate Scheme.

The listed diamonds have been verified by our team of gemologists to be 100% natural and untreated.

You will receive the pictured and described diamond.

We aim for 100% customer satisfaction - if you have any questions regarding our products and services we will be happy to assist you.

Diamond grading is not a science - all our gradings are indicative.

SHIPPING TO THE UNITED STATES:
Your order may be added to an express shipment to our office in California (USA). It will then be forwarded to the buyer. The buyer benefits from cost efficient shipping charges and that we take care of all custom clearance duties and fees. As your order would come from our California office - there will be no individual Kimberley Process Certificate.

If your order is sent directly to you then you will receive an individual Kimberley Process Certificate. In this case the buyer is responsible for any clearance duties and fees.


Please contact us for shipping upgrades for urgent orders.
SHIPPING:
European Union Buyers: Items located in the European Union do not require a Kimberley Process Certificate when sold within the European Union. Hence no Kimberley Process Certificate will be issued in this case.

International buyers: All our diamonds will be sent with a Kimberley Process Certificate.

All custom and clearance fees are the buyer's responsibility.

Please contact us for shipping upgrades.
RETURNS:
If you are not completely satisfied with your purchase please contact us for returns within 14 days of receipt of the item(s)

The item(s) must be returned in its original condition.

Shipping and insurance costs are non-refundable.

The buyer is responsible for return shipping with tracking. Please message us to confirm the return shipping address.

International buyers (non-EU buyers) will need to obtain a new Kimberley Process Certificate to return the item. For certain countries this is very costly so please check with your local KP office before purchasing. For more information regarding this please contact us before purchasing.

Once we receive the item, we will refund your money within 2 business days.